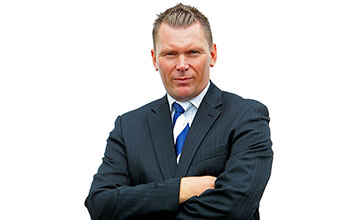 @MCYeeehaa will lead the betting coverage on ITV
  PICTURE: Patrick McCann  
 By Robin Gibson 9:54PM 11 OCT 2016 
THE idea of Steve Palmer steaming into the tech debate seems about as likely as Stan Moore sending his horses to the track in a self-driving Google van – but there he was last week in RPSunday (Palmer, not Moore).
The god of the golf wager put down his betting shop ballpoint to moan about the upgrade to iOS 10. As Steve accurately observed, it does very little more than iOS 9 did, and nothing likely to actually benefit anyone whatsoever.
This is the thing with upgrades. Most seem to exist only to let Apple (or whatever) kill time until they devise a great new product (like Oates, they may be some time).
Meanwhile, they add dud gimmicks. Who needs them? If I want friends to control my thermostat, I'll invite them round in person. That's connected living.
Yet you can't switch on your device without being pestered to maintain your modernity with some sort of revamp. That's if you ever switch off your device. Apparently no one does nowadays and continually checking for updates is the 21st century equivalent of sitting up in your sleep to smoke a few fags.
Take racing on TV (yes, yes, it's an internet column, but you can watch TV on your PC). To the dismay of diehards calling for the return of the old Channel 4 Racing, the new one is already being binned and now ITV is taking over. Still, C4 broadcasts show no hint of reeling from a death blow and the team remain spry.
On the other hand, dropping the Arc seemed a bit like a belated protest, or at least a closing of the wallet, meaning similarly cheapskate viewers had to watch it on ATR with split screens from Uttoxeter and Tipperary.
C4R's imminent demise would have raised the prospect of pallor at its website (racing.channel4.com), had it not been strangely pallid anyway for a long time. Shortly after ITV got the rights to broadcast racing, I suggested the site might be winding down. In March, the lead item on the video tab was 'Hurricane Fly regains Champion Hurdle title', from 2013. It still is. Worse, some other videos (also from 2013) are "not available in my territory".
The news is mildly more up to date, with a bit about The Last Lion (September 24) topping the page. 94,000 people like C4 Racing on Facebook but, like satisfaction with life in general, the rate of increase is declining as the clock ticks.
What about Twitter?
ONE branch of the C4 operation still gamely banging on is Twitter (@Channel4Racing, 140k followers), which is a lot more fun for video fans. It was this feed that pointed me to Kids v Jockeys, which sounds like an equally matched bout but is actually a series of great YouTube videos of kids interviewing jockeys, in which the kids get almost as good as they give.
The short films come from Great British Racing, whose website, while probably the sort of thing no one looks at any more, is really quite nifty and has some other entertaining short videos including a 1min53sec day in the life of Dettori, and, bizarrely, 'Commute of Champions', which shows commuters racing for Champions Day tickets (a partial success).
The kidz' vidz have had paltry viewing figures so far (100 for Jamie Spencer, 98 for William Buick, 97 for Jim Crowley and a pathetic 53 for Oisin Murphy, who shows great comic potential).
That's bad, because "Why does your dog have an Instagram account?" and "Would you rather have a head the size of a tennis ball or a watermelon, and why?" are the sort of questions that need answering.
One question seldom asked around here is 'What's on ITV?' but as C4 rides into the sunset, it will be heard more often. Sadly Simon Holt won't be, but @MCYeeehaa will. His Twitter name is now Matt Chapman ITV/ATR, in case you were in any doubt.
There are a few other Twitter accounts with ITV Racing in the
name. Four in fact.
There's Itvracing (@itvhorseracing, 12 followers); ITV RACING (@itv_racing, 20); @itvracing (@itvracing, 23) and ITVRacing (@racing_itv, 2). Tricky.
There's no ITV Racing site yet, but itv.com has a fair bit of news in its racing section. It's mainly about who is going to present ITV Racing, but they are sufficiently on the case to run a story about the jockey/high street bank frauds.
There's nothing funny about this, although that hasn't prevented the odd would-be wag posting daft comments on news stories. But there is something peculiar about the terminology. It's not jockeys who are being defrauded. The banks are the doughbrains blithely handing over cash to imposters.
Let's block ads! (Why?)
Horse Racing News | Racing Post