Written by Mihir Vasavda
| Lucknow |

Updated: December 31, 2016 5:34 pm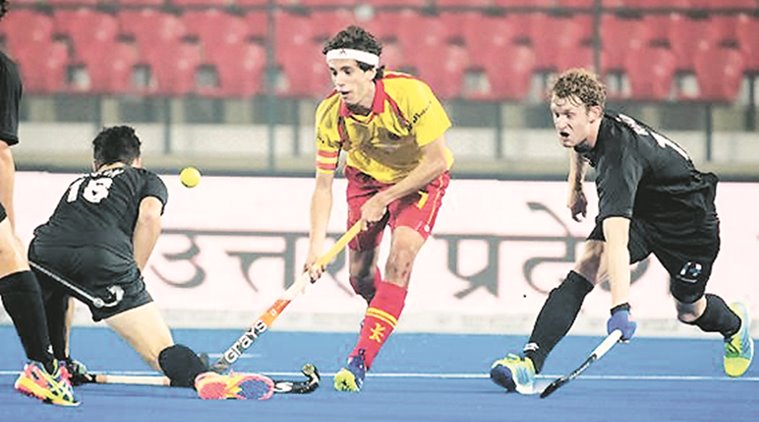 With his hockey stick, Spanish captain Enrique Gonzalez painted beautiful designs on the turf during the Junior World Cup.
All that is gold does not glitter, wrote JRR Tolkien. 2016 saw four passages of play which got overshadowed by widely celebrated feats that followed. Hopefully this quartet – to quote from Tolkien's poem again – 'a light from the shadows shall spring' in 2017.
Dribbling, traditionalists often complain, is a passé. Skills are dead, they lament, accusing the Europeans of making hockey a strength game. It took a 5ft-2, scrawny teenager with a mop of curly hair to bust that myth.
Lucknow had been a perfect host. Unrelenting cold, uninterrupted WiFi and unending cups of coffee. It couldn't have gotten any better.
That Thursday evening, India were to play Spain, a match which most of us believed would be a no-contest. In the press room, India's superior fitness was being discussed over warm gulab jamuns as the debate veered toward the margin of victory rather than the result itself.
INSTANCE 2: When Mohammed Shami was breezier than breeze
The match began, and soon our faith in the Indian team gave way for fear. Spain scored early and then sat deep in their half as India pressed for an equalizing goal. It resembled a training ground drill. Until that moment came.
During one of their attacks, India lost the ball near the Spanish 'D'. Enrique Gonzalez, Spain's captain, was the first to reach. He looked up. But there was no red shirt to pass the ball. So he put his head down and embarked on a run that initially silenced the crowd, but later drew applause.
INSTANCE 3: Before World T20 QF: You couldn't help but feel for Mashrafe Mortaza
He dribbled past seven Indian players, who tried to stop him with their sticks, shoulder challenges and, in desperation, by pulling his shirt. But the young Carles Puyol lookalike nutmegged and swayed past the Indian shirts. In the stand in front of me, a few Australian players — just back from their quarterfinal — had a 'did-you-see-that' look plastered on their faces.
Minutes later, he did it again – this time, dribbling past five players. You felt sorry for the Indian players – who were embarrassed in front of their own crowd.
This piece of artistry showed strength of a European and wizardry of an Indian. It wasn't the only time in the tournament Gonzalez made jaws-drop.
In an earlier match, he covered almost 60 metres with the ball alone. It was an astonishing run: back bent, controlling the ball with left hand, dribbling past defenders as the ball kissed the sideline but never really popping out of play, then cutting inside and finding a defender's foot to win a penalty corner. By describing European players merely as physical, we ignore how ridiculously skillful some of them are.
After the quarterfinal, a couple of us asked the business management student about his runs. "I was looking to pass the ball, but there was no one. I don't know how I dribbled past so many players," he said.
INSTANCE 4: Archery, 2016 Olympics: When Deepika Kumari got five 10s in nine shots
Gonzalez needn't worry about the 'how' part as long as he can. He is just 21. But his offensive abilities and one-on-one play are already creating waves in hockey circles. Spain did not have a great tournament. But he made them an extremely watchable side. He was Junior World Cup's MVP, and few would have felt otherwise.
My favourite moment of the year lasted barely 20 seconds. One that got lost in the frenzy following India's entry into the semifinals. It, nevertheless, reminded us that the art of dribbling is still alive. And how!