By: AP |

Published:January 12, 2017 12:57 pm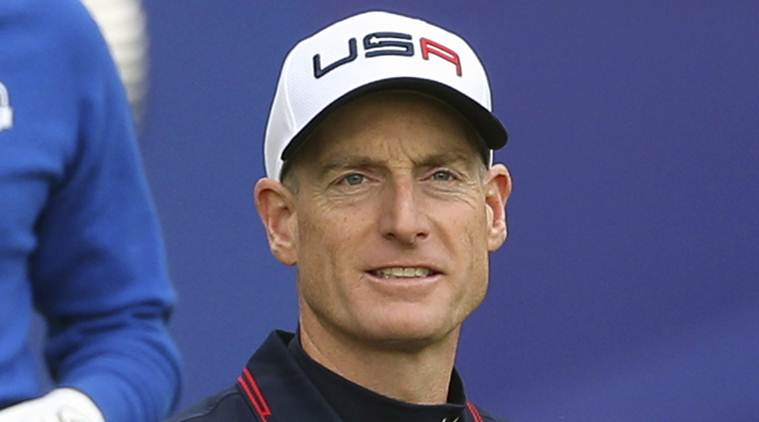 Jim Furyk is ranked No 37 in the world and had a chance to make the team for tenth straight year. (Source: AP)
Jim Furyk was appointed Wednesday as the U.S. captain for the 2018 Ryder Cup in France, where his team will try to win on European soil for the first time in 25 years.
Furyk was a unanimous choice by the Ryder Cup committee last month.
The former U.S. Open champion, and the only player in history to twice post rounds in the 50s, brings more playing experience than any other U.S. captain. Furyk played on nine consecutive teams starting in 1997, and he was an assistant captain to Davis Love III last year at Hazeltine.
Love will be one of his assistants in France.
"He's going to be a very tough act to follow," Furyk said from PGA of America headquarters in Palm Beach Gardens, Florida. "He put a system in place. He put the players behind it. It won't make my task easier, but it makes it easier knowing there is a system in place. To have him by my side – his advice, his experience, two captaincies and one vice captaincy – is going to be priceless for me."
The Americans reshaped their thinking after the 2014 loss at Gleneagles, where Phil Mickelson publicly questioned Tom Watson's leadership and the lack of player involvement. That spawned a Ryder Cup Task Force that allowed for more input from the players, and now a Ryder Cup committee comprising three players (Mickelson, Love and Tiger Woods) and the top three PGA of America officials.
Part of that model was to allow for more consistency at each Ryder Cup, such as captains previously serving as assistants.
The committee met Dec. 6 and decided on Furyk, waiting until the start of the new year to announce him. PGA of America President Paul Levy said it took Furyk "one second" to accept the job.
Jordan Spieth and Brandt Snedeker were among players who thought it was the right choice and a logical one. Spieth referred to Furyk as a role model, and smiled when he added that Furyk would "embrace the idea of having an away game."
The Americans haven't won on the road since 1993 at The Belfry, when Love was a Ryder Cup rookie, Woods was in high school and Spieth was 2 months old.
"He's got a lot of scar tissue in the Ryder Cup," Spieth said, referring to five Ryder Cup losses that Furyk endured in front of European fans. "I think it will be more fulfilling being there, having a chance to win over there. He can take the experience of all those Ryder Cups and throw that down the drain with a win."
Furyk agreed.
While he said it would be a challenge to win at Le Golf National outside Paris, where the French Open has been since 2002, he said it's a chance to end a losing streak that has been around as long as he's been on tour.
"Our team hasn't won in 25 years – I've heard that a lot today," Furyk said. But I view it as an opportunity. It's exciting, and it's a new day and age for the U.S. Ryder Cup team. We have some momentum right now."
Furyk is 46 and still going strong on the PGA Tour. He is No. 37 in the world ranking and had a chance to make his 10th straight team last year except that he missed the first four months of the year recovering from wrist surgery. He set a PGA Tour record in August with a 58 in the final round of the Travelers Championship. Furyk had shot 59 at the BMW Championship three years earlier.
The Ryder Cup has not had a playing captain since Arnold Palmer in 1963 at East Lake, and Furyk wasn't ready to consider the prospects of playing in France even if he were to qualify for the team.
"I don't want to say `no.' My main focus and what I'm interested in now is a captain," he said. "Worrying about point and where my game is is putting the cart before the horse, in my opinion. My main goal is being the best captain I can, getting the best 12 players and providing an atmosphere to let them succeed."
Thomas Bjorn was appointed European captain last month.
Furyk said he and Bjorn walked one match together at Hazeltine and talked about the future, including the prospect of both being captain. The two never faced each other in the Ryder Cup as players.
Furyk had a 10-20-4 record in his nine Ryder Cup appearance, with more losses than any other American since the Ryder Cup began in 1927. He delivered a key singles victory over Sergio Garcia in 1999 when the Americans rallied from a 10-6 deficit at Brookline. He also holds the distinction of having been involved in the decisive match at the Ryder Cup on both ends, losing to Paul McGinley at The Belfry in 2002 and beating Miguel Angel Jimenez at Valhalla in 2008.
"You can learn from your mistakes, and if you look at my record, I've learned a lot," Furyk said with a smile.
While he has known about his selection for a month, Furyk still choked up when he was introduced, especially when talking about his wife and his father, Mike, a PGA professional and the only coach he ever had.
"It's no secret it's been my favorite event for my entire career," Furyk said.