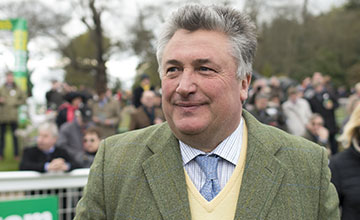 Paul Nicholls: does not want Kempton to close
  PICTURE: Edward Whitaker (racingpost.com/photos)  
 By Peter Scargill 11:03AM 15 JAN 2017 
CHAMPION jumps trainer Paul Nicholls said on Sunday he "dreads" the thought of Kempton closing and added he hoped the The Jockey Club's plans for the course did not come to fruition.
Nicholls, who saddled Modus to win the Lanzarote Hurdle at Kempton on Saturday, also questioned where the £500 million investment in racing promised by The Jockey Club would be coming from should Kempton be sold off for housing as proposed.
He said: "I've enjoyed no end of good fortune at Kempton, a great jumping track where you know you will find better ground through the season more than at any other course.
"It is a speed track that suits bold jumping, free running chasers, brilliant horses like Desert Orchid, Wayward Lad and Kauto Star who set the place alight every Christmas.
"So obviously I dread the thought of the doors at Kempton closing for the final time and hope it doesn't happen."
Funding questions
The racing world was stunned on Tuesday when plans were announced for the proposed closure of Kempton for housing. The Jockey Club said the sale of the land would generate at least £100 million and that £500m would be ploughed back into racing over a ten-year period.
Nicholls used his Betfair blog to question the funding plans, and added: "We've been told that £100 million will be raised from the sale of Kempton yet that is balanced by the Jockey Club's current debt of £115 million. Yet in the next breath their group chief executive Simon Bazalgette is promising an investment of £500 million in our sport over the next decade.
"That type of mega funding for jump racing from the bottom upwards sounds terrific to me but I surely cannot be the only one wondering where all this money is coming from. So at the moment I feel strongly that to have a balanced view I need to know a lot more detail about these startling proposals before making up my mind."
Ascot preferred
Should plans for Kempton proceed Nicholls added he would be in favour of moving the King George VI Chase, a race he has won nine times, to Ascot rather than Sandown, as has initially been suggested.
"Given the choice I'd move it to Ascot, a much more suitable venue from a racing point of view as it is an outstanding jumps track with excellent facilities and the necessary infrastructure to accommodate a large crowd," he said.
"Just imagine more than 30,000 jumping enthusiasts at Ascot on Boxing Day for the most important jumps race in mid-winter.
"That would be superb, much better than the race being held at Sandown which would be packed out with half that amount of people. Plus the fact that the ground is almost always bottomless there at that time of year." 
Let's block ads! (Why?)
Horse Racing News | Racing Post