Andy Murray cruised through the second round of the 2016 Shanghai Rolex Masters on Wednesday as he beat Steve Johnson, but Rafael Nadal suffered a shock upset at the hands of Viktor Troicki as he lost in two sets.
Stan Wawrinka swept aside Kyle Edmund in straight sets as he progressed to the third round. Meanwhile, Marcel Granollers stunned seventh seed Tomas Berdych, but David Goffin avoided a similar upset against Benoit Paire, and Milos Raonic eased past Paolo Lorenzi.
Nick Kyrgios caused controversy once again after he appeared to deliberately concede points against Mischa Zverev, who beat the 12th seed in straight sets.
Here are Wednesday's results and the upcoming schedule, courtesy of the ATP World Tour:
Wednesday's Shanghai Rolex Masters Results

| | |
| --- | --- |
| (3) Stan Wawrinka bt. Kyle Edmund | 6-3, 6-4 |
| Gilles Simon bt. Di Wu | 6-2, 6-2 |
| Viktor Troicki bt. (4) Rafael Nadal | 6-3, 7-6 (3) |
| (2) Andy Murray bt. Steve Johnson | 6-3, 6-2 |
| Marcel Granollers bt. (7) Tomas Berdych | 7-6 (4), 7-6 (1) |
| (5) Milos Raonic bt. Paolo Lorenzi | 6-2, 6-4 |
| Vasek Pospisil bt. Grigor Dimitrov | 7-5, 7-6 (2) |
| Roberto Bautista Agut bt. Taylor Fritz | 6-4, 6-4 |
| (11) David Goffin bt. Benoit Paire | 6-1, 7-6 (0) |
| Jack Sock bt. Feliciano Lopez | 6-3, 4-6, 6-4 |
| Mischa Zverev bt. (12) Nick Krygios | 6-3, 6-1 |
| (13) Lucas Pouille bt. Nicolas Almagro | 6-4, 7-6 (10) |
ATP World Tour
Thursday's Shanghai Rolex Masters Schedule

| | |
| --- | --- |
| Third Round | (9) Jo-Wilfried Tsonga vs. Alexander Zverev |
| Third Round | (1) Novak Djokovic vs. Vasek Pospisil |
| Third Round | (13) Lucas Pouille vs. (2) Andy Murray |
| Third Round | Gilles Simon vs. (3) Stan Wawrinka |
| Third Round | Mischa Zverev vs. Marcel Granollers |
| Third Round | (5) Milos Raonic vs. Jack Sock |
| Third Round | Viktor Troicki vs. (15) Roberto Bautista Agut |
| Third Round | (6) Gael Monfils vs. (11) David Goffin |
ATP World Tour
The event's full schedule can be found on the official website.
Recap
Fresh from winning the China Open on Sunday, Murray had little difficulty against Johnson on his way to the third round in Shanghai.
The Scot edged out his opponent in the first set 6-3 before quickly racing to a double-break up in the second.
Nick Howson of IBTimes Sport noted the comfort with which Murray cruised through the second set:
.@andy_murray making short work of Steve Johnson in Shanghai. Far cry from #Rio2016, where he gave most of the country heart failure.

— Nick Howson (@NickHowson) October 12, 2016
From there, Murray remained in control as Johnson struggled to trouble him.
Nadal and Troicki were evenly matched in the early stages of their match, until the latter won three games in succession—two of which were breaks—to draw first blood in the contest.
The fourth seed's sub-par returns hindered his ability to get back into the match—with Troicki up 4-3 in the second set, Rafa had won just nine return points according to TennisTV. The Spaniard was able to produce some exceptional rallies on his serve, though:
WATCH! @RafaelNadal is getting PUMPED! Great rally from Troicki & Nadal in Shanghai! https://t.co/BmumqVcmrF #ATP pic.twitter.com/GmiuNnCm9R

— TennisTV (@TennisTV) October 12, 2016
It was soon match point for the Serbian, but Nadal was able to hold him off in style:
RAFA SURVIVES! Incredible dig from @RafaelNadal match point down against #Troicki. https://t.co/BmumqVcmrF #ATP pic.twitter.com/YJlsErMTAL

— TennisTV (@TennisTV) October 12, 2016
The 14-time Grand Slam winner was able to take the match to a tiebreaker, but Troicki managed to avoid letting slip his lead as he saw it out in relative comfort.
Wawrinka and Edmund raced through the first set as it followed service, with neither troubling the other's serve until the third seed broke the qualifier to go 5-3 up in the contest.
From there, the Swiss star quickly went ahead. TennisTV revealed his success at the net and impressive number of winners:
.@stanwawrinka in a hurry on @SHRolexMasters Stadium as he takes the first set 6-3 off #Edmund in 23 mins. Watch: https://t.co/jVk4rPCJcq pic.twitter.com/L2Ha6WfAFl

— TennisTV (@TennisTV) October 12, 2016
Edmund was broken again early in the second set but responded well and hit back with a break of his own.
Wawrinka was simply too strong, however, and broke the Brit once more on the way to taking the second set and the match in just 61 minutes.
Sports writer Neil Harman was nevertheless impressed with Edmund:
For Kyle Edmund to take Stan Wawrinka to a couple of very tight sets in Shanghai is further evidence of his progress. Been a breakout year

— Neil Harman (@Neil_Harman57) October 12, 2016
Meanwhile, per the tournament's official Twitter feed, Wawrinka thanked the fans for his warm reception and looked forward to the rest of the year:
Lots of love for @stanwawrinka in Stadium during his opening win, d. Edmund 63 64 "Thanks for all your support," he says to the fans. 🇨🇭??🙌 pic.twitter.com/3HBR3Kqrfw

— SH Rolex Masters (@SHRolexMasters) October 12, 2016
.@stanwawrinka on the remainder of his 2016 season: "I'm excited to keep playing and keep the confidence that I have" #SHRolexMasters pic.twitter.com/paMuBm37SB

— SH Rolex Masters (@SHRolexMasters) October 12, 2016
The Swiss star will take on Gilles Simon in the round of 16 after he cruised past Di Wu 6-2, 6-2.
Kyrgios lost to Zverev 6-3, 6-1 and on occasion made no attempt to play the ball, per TennisTV (BT Sport's Max Bentley):
Nick Kyrgios: The Mario Balotelli of the tennis world pic.twitter.com/NqiHp2ehdQ

— Max Bentley (@MaxBentley1) October 12, 2016
According to sports reporter Reem Abulleil, the Australian then got in an argument with a spectator:
Guy in a crowd: You gotta respect the game.
Kyrgios: You wanna come here and play? …. Sit down & shut up and watch

— Reem Abulleil (@ReemAbulleil) October 12, 2016
Kyrgios continued to court controversy in his press conference after the match, per journalist Carole Bouchard, but did take to Twitter to apologise afterward:
Baffling press conference w/ Kyrgios… Doesn't give a f. about fans paying tickets to see him tank. "Couldn't care less" of the ATP Finals.

— Carole Bouchard (@carole_bouchard) October 12, 2016
Not good enough today on many levels, I'm better than that. I can go on about excuses but there are none. Sorry #StillAWorkInProgress 🙏🏽😢😞

— Nicholas Kyrgios (@NickKyrgios) October 12, 2016
Raonic was comfortable as he glided past Lorenzi in two sets and appeared to have recovered well from the injury that forced him to withdraw from the China Open earlier in October.
He'll face Jack Sock in the next round. The American needed three sets to beat Feliciano Lopez, who showed remarkable skill to save match point, via TennisTV:
POINT OF THE WEEK! @feliciano_lopez with some CRAZY tennis to save MP v Sock in Shanghai! https://t.co/BmumqVcmrF pic.twitter.com/ZOLZGAUyRP

— TennisTV (@TennisTV) October 12, 2016
The Spaniard would nevertheless succumb, setting up a tie with the fifth seed in the next round.
As for Berdych, he and Granollers were evenly matched throughout their contest.
There was just a single break-point opportunity in the entirety of the first set—which Granollers failed to take—and both were guilty of some loose play. According to TennisTV, the Spaniard made 16 unforced errors and Berdych 18. 
Granollers edged out his opponent in the resulting tiebreaker. The second set followed much the same pattern as the first, with Granollers unable to take what few break points came his way, while Berdych had none.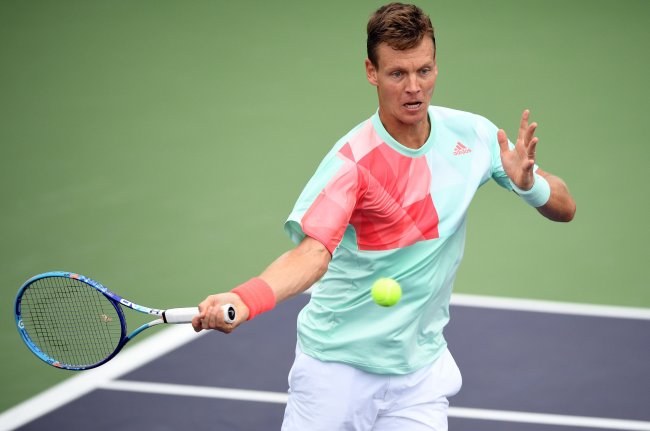 JOHANNES EISELE/Getty Images

However, the Spaniard was much more decisive in the second tiebreaker as he sailed through to victory.
Goffin strolled through his first set with Paire comfortably. The Frenchman responded well, and they exchanged multiple breaks in the second set, but when it came to the tiebreaker, the Belgian was decisive and did not give up a single point.
The 11th seed will take on Gael Monfils in the next round, while Granollers will play Zverev.