By: AP | Napa (california) |

Published:October 13, 2016 12:04 pm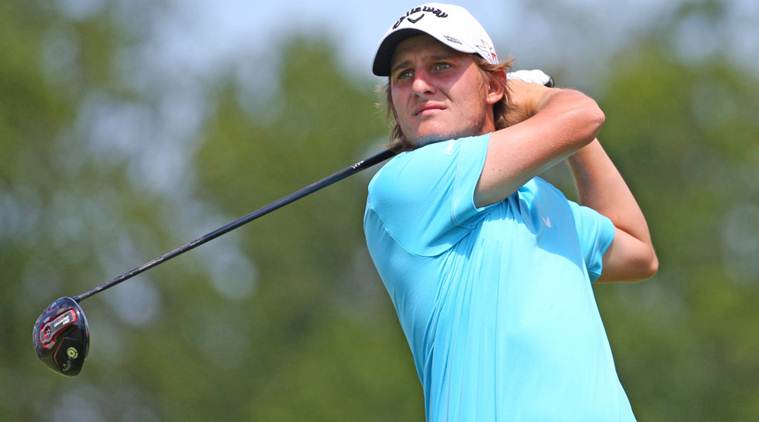 Emiliano Grillo is number 24 in the world and still has as many as five tournaments left this year. (Source: USA Today Sports/Reuters)
On the eve of a new PGA Tour season, Emiliano Grillo of Argentina picked up his second trophy of the old season as the rookie of the year.
Grillo began his rookie year by winning in a playoff last year at Silverado. He made the cut in all four majors and finished in the top 20 in all but the U.S. Open, and then he had a pair of top 10s in the FedEx Cup playoffs, including a runner-up finish at The Barclays.
Smylie Kaufman and Si Woo Kim also won last season as rookies, though Grillo had the highest finish among them in the FedEx Cup at No. 11.
Kaufman won in Las Vegas a week after Grillo's victory, and Kaufman played in the final group at the Masters until he fell back in the final round. Kim joined Grillo as the only rookies to reach the FedEx Cup finale at the Tour Championship.
"I have two trophies that I'm always going to have in my memory," Grillo said.
One was from the Frys.com Open (now the Safeway Open). The other was his crystal bowl as rookie of the year. He said the second one was harder to win.
"This is probably the top one because you only get one chance of getting rookie of the year and I think I'm lucky enough to do this for a living and work really hard for it," Grillo said. "That win last year was something that proved to me I belong here, that I could win out here. That was something that it's hard to earn, it's hard to get that in your mind. Quite different, but definitely up there both."
It was the third time in the last four years that the PGA Tour rookie of the year came out of the high school class of 2011. Jordan Spieth won the award in 2013 and Daniel Berger won it last year.
Grillo grew up competing with those two, along with Kaufman, Justin Thomas and Patrick Rodgers, in junior golf circuits.
"That group was so competitive. It was hard winning junior events," Grillo said. "Everybody was shooting 10-under par, 8-under par, on really difficult golf courses. I think that got me ready. I was playing with the best juniors in the world. I was playing with guys that were very hard to beat. When you're 14, 15 years old, it kinds of gets you ready very quickly."
Next up for the Argentine is keeping the trophy he won last year from Silverado. He is No. 24 in the world and still has as many as five tournaments left this year, including the HSBC Champions in Shanghai and the Hero World Challenge in the Bahamas.